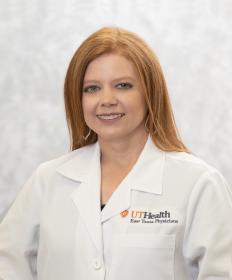 Physician Group:
UT Health East Texas Physicians
Practices At:
Hours:
Monday - Friday
8 a.m. - 5 p.m.
Walk-ins Welcome!
*Age Range: Newborn and up
Lara Rowe is a certified pediatric nurse practitioner who practices at UT Health East Texas Physicians in Pittsburg. Before pursuing her master's degree in nursing, Rowe worked as a registered nurse at Children's Medical Center Dallas. There, she cared for chronically ill children on an inpatient and outpatient basis.
Now, Rowe utilizes her years of nursing experience to help treat children in Pittsburg. Professionally and personally - she is a mother of three - she knows the importance of listening to her patient's needs. I'm always willing to sit down and talk to the parents about their concerns and get to know the child. For me, it's just very rewarding  to be able to make somebody feel better. It's what I always wanted to do."
Her mission is to provide excellent medical care in a family-centerd environment. "I will always strive to treat my patients and their families with great compassion and respect because their health and well-being is my top priority."
Board Certifications:
Pediatric Nursing Certification Board, Certification
Education:
Master of Science: Nursing, Texas Woman's University, Denton
Bachelor of Science: Nursing, East Texas Baptist University, Marshall