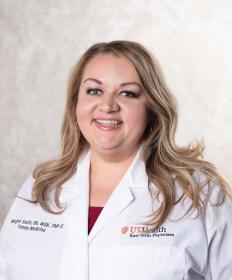 5.0 out of 5
Physician Group:
UT Health East Texas Physicians
Meagen Smith is a nurse practitioner at UT Health East Texas Physicians, in Pittsburg, who believes that nursing has always been her calling. "Both of my grandmothers, my mother and my cousin are nurses."
Believing that prevention is the key to each patient's health, Smith's goal is to partner with the patient and come up with a game plan that suits their needs and goals to help them live their best life.
Smith chose her specialty after going on a medical mission trip. "A sweet friend of mine, who was a nurse practitioner, was working as a provider on the trip. At the time, I was working as a post-op nurse and I knew after that trip that I wanted to serve in a bigger way than I was. I wanted to go back one year as a provider on these mission trips."
Meagen is also fluent in Spanish.  She is welcoming new patients of all ages into her practice. 
Board Certifications:
American Nursing Credentialing Center, Certification
Texas Board of Nursing, Certification
Education:
Master of Science: Nursing, The University of Texas at Tyler
Bachelor of Science: Nursing, The University of Texas Medical Branch at Galveston
Associate of Science: Nursing, Texarkana College, Texarkana
Associate of Science: Northeast Texas Community College, Mt. Pleasant