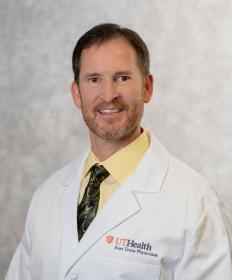 Physician Group:
UT Health East Texas Physicians
Scott Lamb, MD, is a board-certified physician, who knows just how debilitating pain can be. He specializes in treatment of disorders related to the spine. "I take all of patients' complaints to heart, and I'm happy to offer them the best treatment possible to reduce their pain and help them get back to life as usual."
Technological advancements in the field of pain management give Dr. Lamb an optimistic look on what's to come. "The future holds a lot of possibilities with spine treatment, especially in the area of disc problems. Another exciting thing is that we're using more minimally invasive techniques to address difficult problems that were previously treated with surgical incisions."
Dr. Lamb has seen patients in Tyler since 2006, but becoming a UT Health East Texas Physician helps him provide continuity of care support. "It's a well-respected hospital system with friendly, knowledgeable people."
Dr. Lamb earned his bachelor's degree from St. Louis University and his doctor of medicine from the University of Cincinnati College of Medicine in Cincinnati.
Education:
Internship and Residency: The University of Texas Health Science Center at San Antonio
Research Assistant: The University of Cincinnati College of Medicine, Cincinnati
Doctor of Medicine: The University of Cincinnati College of Medicine, Cincinnati
Bachelor of Arts: Biology and Chemistry, St. Louis University, St. Louis
American Board of Pain Medicine, Diplomate
American Society of Interventional Pain Physicians, Member
International Spinal Injection Society, Member
American Academy of Pain Medicine, Member
American Academy of Physical Medicine & Rehabilitation, Member
American Medical Association, Member
Texas Medical Association, Member
Smith County Medical Society, Member